VICTRESS:
Women who paved the way in Australian Sport
By: Corinne Hall & Michael Randall
Mother, wife, partner, daughter, sister, niece, grandmother: every woman is a VICTRESS in her own unique and special way.
This book is an ode to some of Australia's most cherished female athletes who, not just through achievements in their chosen sport, but through their unwavering conviction and commitment to women's sport, blazed a trail for their sisterhood.
From legends like Dawn Fraser and Cathy Freeman, to the new breed of powerful sportswomen like Ellyse Perry, Tayla Harris and Ash Barty, each athlete is honoured and celebrated, thanks to Hobart Hurricanes Women's Big Bash League cricketer Corinne Hall's unique artistic talents.
Inspired by these incredible women, Corinne takes readers on a journey into the lives of each athlete through both her stunning drawings and her authentic tales.
From personal interactions with the athletes, to recalling where she was when watching some of the iconic events that made them household names, Corinne provides a fresh but relatable perspective on how each has left an indelible mark on the exponential growth of sport for women.
Kindness is key for Corinne, who has ensured funds from the book will be directed back into grassroots women's cricket, along with helping charitable organisation, The Kindness Factory, spread its positive message.
In keeping with the kindness theme, athletes have provided their own stories of kindness, unearthing the special role simple acts have played in their lives.
We Only have 2 things we share in this life: we are born and we die. And what we do in between those times, we've got to be happy. I don't let the outside world deter me – Dawn Fraser (Swimming Legend).
Cathy Freeman on the decision to celebrate her Sydney 2000 400m Gold Medal win with both the Australian and Aboriginal flag.
"I really enjoy being able to wake up every day and go to training and being challenged to evolve as an athlete. I find a lot of joy in that."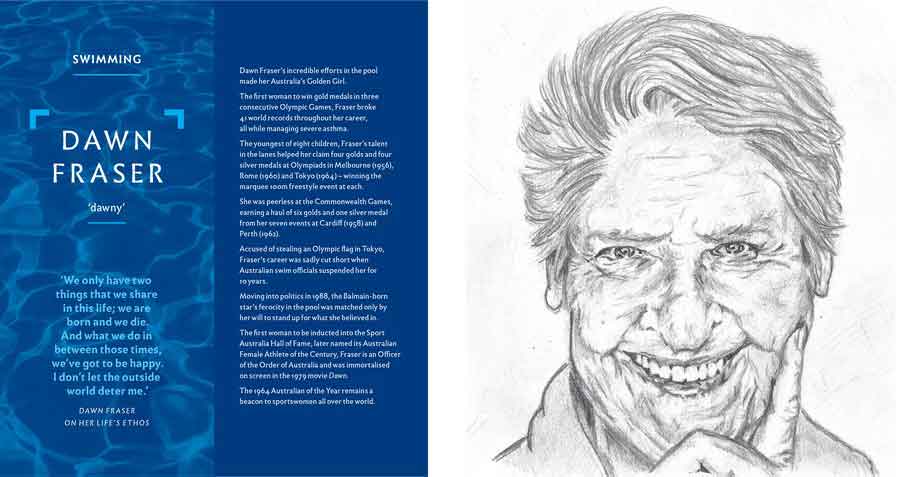 "We Only have 2 things we share in this life: we are born and we die. And what we do in between those times, we've got to be happy."
"I guess when you're in it you don't really think you're doing that well because there are just so many things happening around you, but since I retired it is definitely starting to hit home that I was OK at it. I did all right."
Corinne Hall
Using her talent for drawing, WBBL cricketer Corrine Hall has celebrated iconic sportswomen in a new book, Victress.
The Hobart Hurricanes player worked closely with journalist Michael Randall, who co-authored the book, to bring the idea for Victress to life.
Through illustrations and words, the book documents the achievements of 35 Australian sportswomen including Olympic Gold Medallists Dawn Fraser and Cathy Freeman, current-day cricket stars Ellyse Perry and Meg Lanning, and household names like Ash Barty and Layne Beachley.
As a self-taught artist, Hall has illustrated each of the sportswomen featured in the book.
Michael Randall
Michael Randall has built a career spanning two decades as a writer, journalist, digital producer and social media whizz currently working in the sports department at Melbourne's biggest newspaper, the Herald Sun.
Michael is proud to champion women's sport and is eager to shine a light on great female athletes, both past and present. A lover of hoops, Michael is an avid watcher of the NBA and NBL, lives for 4 am Monday morning wake-ups for the NFL and will watch any televised cricket match.
He has also given back to the community through his committee work at his local cricket and hockey clubs, each of which he has been a member for nearly 30 years.
VICTRESS:
Women who paved the way in Australian Sport
By: Corinne Hall & Michael Randall